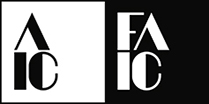 Online Community
2021 AIC/SPNHC Joint Virtual Annual Meeting - Early Registration
Register

Early bird pricing available!
Non-member - $175
Member - $125
Regular Price after 03/01/2021 4:35 AM
Non-member - $205
Member - $175
Transform 2021
AIC/SPNHC Joint Virtual Meeting
2020 has been a challenging year for cultural heritage conservation. Many of us were shut out of our workplaces by a global pandemic that exposed the financial vulnerability of our cultural institutions. At the same time, we witnessed tragic examples of the systemic racism endemic in 21st century life – inequities perpetuated by our own professional practices and within our own organizations. In the coming years, not only will we be forced to do more with less, but we are also morally obligated to address our biases and examine how identity and privilege sway our professional decision-making and interactions. Racism has shaped our discipline from its beginning, and we cannot shirk the work required to address it. Our commitment to practical and moral change must be manifest in the work we choose to do, in our research, and in our teaching. It is time to transform cultural heritage conservation.
With specialized knowledge that gives us a unique perspective on cultural heritage, we have the skills, abilities, and tools to explore alternatives to what was the norm in 2020 and develop a more engaged, critical, and just discipline. We can push ourselves and our colleagues toward more challenging work. These efforts will also allow our field to confront other critical issues more effectively, such as climate change, sustainability, and developing and implementing treatments and preservation practices that do more with less.
For the general sessions of our 2021 annual conference, we sought session and paper submissions that challenge "normal" and "normalizing." How can we transform our field, and how can our work transform the world? Let's imagine and share projects that incite and foster institutional change; create inclusive and welcoming environments in our museums and studios; and take on big challenges, whether they do so in ways that are large or small.
Dates
May 3-7, 2021 (Pre-sessions and Workshops)
May 10 to June 24, 2021 (Main Conference)
Program & Schedule
We have grouped sessions into subject modules. For more information, see Program & Schedule.
Joint Meeting
We are pleased to be holding a joint annual meeting with the Society for Preservation of Natural History Collections (SPNHC).
Virtual Meeting
With the most positive vaccine projections having the majority of US residents vaccinated by early summer, our in-person meeting in early May would have still been unsafe, so we opted for a virtual meeting in 2021 and moved our commitment with the Hyatt Regency Jacksonville from 2021 to the 51st Annual Meeting in 2023.
Registration
Early registration for the 2021 AIC/SPNHC Joint Virtual Annual Meeting is now open!
Everyone who registers by December 31, 2020, will be entered into a contest to win:
Registration to our 2022 Annual Meeting in Los Angeles (2 prizes)
$100 credit that you can use for any AIC purchase (3 prizes)*
*FAIC events excluded
Rates
Early Registration – before Feb. 28
Regular Registration – after March 1
Member - $125
Non-Member - $175
Speaker - $125
Student and Post-graduate Member - $75
Member - $175
Non-Member - $205
Speaker - $125
Student and Post-graduate Members - $105
SPNHC Members: Use Discount Code SPNHC at checkout to receive the member rate
Speakers: Use 2021SpeakerNM
Student and Post-graduate Members: Use STUDENT21

---

NOTE - you must be logged in to the website to register and to receive the early rates and to use the discount codes. If not logged in - please login using the top right button. If you are unsure of your password you can reset it. If you are new to the AIC website - please setup an account ( at no cost) and then login to register for the meeting. Click the New User option on the login in page accessed by clicking the login button.
Student rates are for student members.
All registrations are full registrations which include all sessions and access to the recordings.
Administrative & Group Registrations
If you need to register someone other than yourself or a group of people, please use the instructions or form below.

Virtual Meeting Registration Form

Step by Step Guide to Registering Someone Online
Rollover Registrations
If you registered for the 2020 Annual Meeting and chose to roll over your registration to an in-person meeting, you had the option to select rollover to 2021 or 2022. See below for details on how this will work now that the 2021 meeting is virtual.
Option 1 (default): Your 2020 meeting registration will be rolled over to 2022, so you can use it at our next in-person meeting, the 2022 Annual Meeting in Los Angeles. You will need to register for the 2021 virtual meeting separately. The 2021 AIC/SPNHC Joint Virtual Meeting is less expensive than an in-person AIC Annual Meeting with early registration at $125 for regular members and $75 for student members. You do not have to do anything to receive Option 1. If we do not hear from you by June 15, we will automatically roll your registration over to 2022.
Option 2: You can use your 2020 rollover registration to register for the 2021 AIC/SPNHC Joint Virtual Meeting. It will be a one to one trade. As a thank you, you will receive a 30% discount off registration rates for the 2022 or 2023 Annual Meeting. Please contact Ruth Seyler at rseyler@culturalheritage.org to use Option 2 or with any questions.
Platform
Conference sessions will be held in Zoom with automatic closed captioning.