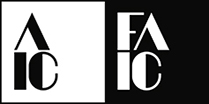 2021 AIC/SPNHC Joint Virtual Annual Meeting
Register

Non-member - $205
Member - $175
Transform 2021
AIC/SPNHC Joint Virtual Meeting
Dates
May 3-7, 2021 (Pre-sessions and Workshops)
May 10 to June 24, 2021 (Main Conference)
Program & Schedule
We have grouped sessions into subject modules, which we will present in Zoom (with automated closed captioning). For more information about the meeting theme, structure and schedule of sessions, see Program & Schedule.
Joint Meeting
We are pleased to be holding a joint annual meeting with the Society for Preservation of Natural History Collections (SPNHC) whose members can read through our Guide to SPNHC Sessions.
Virtual Meeting
With the most positive vaccine projections having the majority of US residents vaccinated by early summer, our in-person meeting in early May would have still been unsafe, so we opted for a virtual meeting in 2021 and moved our commitment with the Hyatt Regency Jacksonville from 2021 to the 51st Annual Meeting in 2023.
Registration
Registration for the 2021 AIC/SPNHC Joint Virtual Annual Meeting is open! All registrations are full registrations that include all sessions and access to the recordings. If you are new user, create an account (free) and then log in to register for the meeting or submit the form below. See instructions below for more information.

Registration Form

New User Registration Instructions
Rates
Member dues must be paid in full by January 31st of the calendar year in which the meeting takes place to receive the member rate. You have to log in to this site to register at the early rates and use the discount codes.
Registration Rates
Member - $175
Non-Member - $205
Speaker - $125
Student and Post-graduate Members - $105


SPNHC Members: Use Discount Code SPNHC at checkout to receive the member rate/ SPNHC Student Members: Use the code SPNHCstudent
Speakers: AIC Members use 2021Speaker, Non-AIC members use 2021SpeakerNM
AIC Student and Post-graduate Members: Use STUDENT21(student rates are for student members).
Non-member Students: use the code nonmemberstudent
Administrative & Group Registrations
If you need to register someone other than yourself or a group of people, please use the form or instructions below. If you wan to register 10 or more people, email us for a bulk registration discount and streamlined processing at meetings@culturalheritage.org.

Registration Form

Instructions for Registering Another Individual
Rollover Registrations
If you registered for the 2020 Annual Meeting and chose to roll over your registration to an in-person meeting, you had the option to select rollover to 2021 or 2022. See below for details on how this will work now that the 2021 meeting is virtual.
Option 1 (default): Your 2020 meeting registration will be rolled over to 2022, so you can use it at our next in-person meeting, the 2022 Annual Meeting in Los Angeles. You will need to register for the 2021 virtual meeting separately. The 2021 AIC/SPNHC Joint Virtual Meeting is less expensive than an in-person AIC Annual Meeting with early registration at $125 for regular members and $75 for student members. You do not have to do anything to receive Option 1. If we do not hear from you by June 15, we will automatically roll your registration over to 2022.
Option 2: You can use your 2020 rollover registration to register for the 2021 AIC/SPNHC Joint Virtual Meeting. It will be a one to one trade. As a thank you, you will receive a 30% discount off registration rates for the 2022 or 2023 Annual Meeting. Email meetings@culturalheritage.org to use Option 2 or if you have any questions.
Refunds
Our refund policy attempts to balance the needs of being compassionate and flexible with members who find at the last minute that they can no longer attend the meeting with the need to keep registration rates as low as possible for all members.
Attendees Assisting Attendees Campaign
As we plan and create the 2021 AIC/SPNHC Joint Virtual Annual Meeting, we recognize that some of our colleagues are experiencing financial hardship at a time when we most need to feel a connection to our community. We strive to create as many opportunities as possible to assist with registration fees, and many of our members have offered to contribute to these efforts. If you are in a position to do so, please consider supporting your colleagues by contributing to this campaign.
Exhibitors
We are accepting exhibitor registrations for our virtual meeting Connect with your best customers in our virtual exhibit hall.
For more details, pricing, and a registration packet, please email meetings@culturalheritage.org.