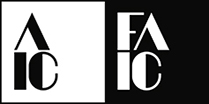 Online Community
2020 AIC Virtual Annual Meeting: May and June Sessions
Recorded On: 05/21/2020
Register

Non-member - $275
Member - $175
Join us for AIC's 48th Annual Meeting, now held virtually online.
Register
Register today to engage with over a hundred hours of professional presentations on conservation issues, techniques, and advances.
Student members need to use a special discount code to register at the student rate.
If you cannot register using the link above, use our printable, fillable registration form below. Please email, if possible, as we are still under work-from-home orders. You can use this form for group registrations as well.

AIC Virtual Meeting Registration Form
Sessions
They are planned by topic or specialty and will include posters with individual presentations and discussion.
They are scheduled from May through August.
The schedule of individual presentations are in two-hour blocks and take place from 1:00 – 3:00 p.m. Eastern Time.
They will include two to four talks or panels. Individual presentations are not each two hours long. They will just each take place within that block of time.
They are listed in the Content tab above.
They are not visible through a mobile device or tablet in either live or recorded format. You must use a desktop or laptop to access.
They will be available for viewing by registrants until the end of the calendar year.
Meeting Theme
This meeting's theme is "Conservation: Reactive and Proactive." We work in a rapidly changing world. Globally, the economy is volatile, the marketplace demanding, and the negative impact of climate change looms large in conservation. Many collecting institutions have shifted their priorities to preventive conservation for collections and interactive learning in exhibitions, which can decrease emphasis on traditional conservation treatment and the supremacy of original display materials. Conservation professionals are drawing from a wide skill set to respond to these challenges in creative and productive ways. From offering conservation services that go beyond treatment, to focusing on sustainability, to utilizing materials science and technical art history in public education, our field is adapting and evolving. In 2020, we'll explore ways we can anticipate and embrace change. How are you meeting your biggest challenges? Please join us to share your triumphs and reflect on areas for growth.
2020 EXHIBITOR PROFILES
PLATINUM LEVEL
Bruker Corporation
Virtual Meet & Greet: June 17, 22, 30; July 13; August 27
5465 E. Cheryl Parkway, Madison, WI 53711 USA
Contact: Kodi Morton
Ph: 608-276-3017 Fx: 608-276-3006
Email: kodi.morton@bruker.com
Website: www.bruker.com
Bruker is one of the world's leading analytical instrumentation companies. We cover a broad spectrum of advanced solutions in all fields of research and development. Bruker's innovative methods and non-destructive analytical techniques help to protect and preserve artifacts and historical monuments all over the world.
Goppion
205 Mount Auburn St., Watertown, MA 02472 USA
Contact: Bruno Goppion, Ted Paschkis
Ph: 617-297-2546 Fx: 617-848-2641
Email: bgoppion@goppion-us.com, tpaschkis@goppion-us.com
Website: www.goppion.com
Goppion designs, develops, builds, and installs state-of-the-art display cases and museum installations. We work with curators, designers, and conservators to resolve all exhibition display-related issues with engineering solutions. Our tradition of innovation is sustained by our collaborations with our clients, including some of the most highly regarded architects, designers, and cultural institutions throughout the world.
DIAMOND LEVEL
Tru Vue, Inc.
Virtual Meet & Greet: August 20
9400 West 55th St., Countryside, IL 60525 USA
Contact: Yadin Larochette
Ph: 312-758-3737 Fx: 708-854-2660
Email: ylarochette@tru-vue.com
Website: tru-vue.com/museums-collections
"Take 5" with Tru Vue and Discover a Thing or Two
An overview of "Take 5", an on demand webinar, where Tru Vue aspires to give you a short break from your day and provide you with five minutes of what we hope is educational, or at least interesting, information! Covering a variety of different topics, some of these five minutes are on subjects directly related to glazing and Tru Vue manufacturing; others are more broadly situated in the arts and heritage world.
With nearly 50 years of proven protection and preservation, Tru Vue fine art acrylic and glass solutions, including Optium Museum Acrylic and UltraVue Laminated Glass, are trusted by conservation and fine art professionals to protect and display the most celebrated artworks in the world. We work closely with the museum community to develop products that meet superior aesthetic and conservation standards. For more information visit our website: www.tru-vue.com/museums-collections.
GOLD LEVEL
Atlas Preservation Inc.
122 Spring St., Ste. B1, Southington, CT 06489 USA
Contact: Jonathan W. Appell
Ph: 806-558-2785
Email: sales@atlaspreservation.com
Website: atlaspreservation.com
Atlas Preservation, Inc. was conceived based on the need for a one stop source for all monument restoration supplies. Our mission quickly expanded to include many other fields relating to conservation & historic preservation. such as products for metal conservation, historic window repair, modern stone working, and more. Jonathan Appell is the founder of Atlas Preservation Inc., with over 30 years of experience he has personally conserved some of the oldest dated stones in America. He also performs the majority of historic gravestone preservation workshops throughout America.
Foster + Freeman USA, Inc.
Virtual Meet & Greet: June 29; July 14
46030 Manekin Plaza, Ste. 170, Sterling, VA 20166 USA
Contact: David Tobin
Ph: 888-445-5048 Fx: 888-445-5049
Email: usoffice@fosterfreeman.com
Website: www.fosterfreeman.com
Manufacturer of the Video Spectral Comparator (or "VSC") range of instruments for examining documents, paintings, and similar items. Sophisticated optics and specialized lighting allow viewing at various magnifications, throughout the UV, visible and infrared wavebands. Images are easily captured, analyzed and compared via the user-friendly software. Now with 3D-imaging to help reveal the topography of a surface. Sponsoring: BPG Session.
G.C. Laser Systems, Inc.
Virtual Meet & Greet: June 8, 23; August 31
900 S. Des Plaines Ave., Forest Park, IL 60130 USA
Contact: Magdalena Dajnowski
Ph: 844-532-10641 Fx: 773-353-8699
Email: magdalena@gclasers.com
Website: www.gclasers.com
G.C. Laser Systems, Inc. designs and builds unique laser systems specifically for art and architecture conservation. Our compact and portable systems, such as the GC-1, offer unmatched precision and control over the level of cleaning. We also offer custom built laser cleaning solutions and laser cleaning training.
Hollinger Metal Edge, Inc.
9401 Northeast Drive, Fredericksburg, VA 22408 USA
Contact: Bob Henderson
Ph: 800-634-0491 Fx: 800-947-8814
Email: info@hollingermetaledge.com
Website: www.hollingermetaledge.com
Hollinger Metal Edge, Inc. has been the leading supplier of archival storage products for Conservators, Museums, Government and Institutional Archives, Historical Societies, Libraries, Universities, Galleries and Private Collectors for over 65 years. Famous for The Hollinger Box – the metal edged gray document cases that fill the shelves of thousands of organizations, we offer a wide variety of box styles made with various appropriate materials to store any collectible. We also supply conservation materials, inert polyester, polypropylene and Tyvek products, archival folders, buffered and unbuffered envelopes, Permalife bond papers, and buffered and unbuffered tissue paper. Hollinger Metal Edge manufactures custom orders on a daily basis and is committed to educational support for preservation workshops. Please contact us regarding your workshop, and we will provide free catalogs and samples as required.
Kremer Pigments, Inc.
247-C West 29th St., Frnt. 1, New York, NY 10001 USA
Contact: Roger Carmona
Ph: 212-219-2394 Fx: 212-219-2395
Email: roger@kremerpigments.com
Website: www.kremerpigments.com
For over 40 years, Kremer Pigments continues to research, produce, and procure the highest quality pigments and raw materials for all types of historical fine arts recipes. Dr. Georg Kremer began making pigments in 1977 by producing Smalt--a 19th century cobalt-based synthetic blue. His inventory of pigments has grown steadily year by year and continues to grow with the most recent mineral pigment, Thulit. Conservators, gilders, decorative painters, luthiers, dyers, and all manner of artists rely on Kremer Pigments to supply hard-to-find ingredients for their specific needs. Today, Kremer Pigments NYC is the only store outside of Germany to carry the full inventory of over 1,000 historical raw materials.
NanoRay
7F, No. 91, Xinhu 1st Rd., Neihu District, Taipei 114 Taiwan
Contact: Ranganath Varma
Tel: +886 2-2796-8909
Fax: +886 2-2796-8910
Email: varma@nanoray.com
Website: www.artxray.net; www.nanoray.com
NanoRay, headquartered in Taiwan, has pioneered the design and development of Transmission X-Ray technology for its application in Non-Destructive Testing – Automated Art Inspection. NanoRay has successfully developed a portfolio of intelligent Automated Art X-Ray Inspection solutions, with patented Transmission X-Ray Technology, to help in preventive maintenance, restoration and research of art objects like Paintings, Sculptures, Relics, artifacts, etc., and ensure the safe keep of priceless heritage of mankind.
TandD US, LLC.
534 N. Guadalupe St., Unit 32886, Santa Fe, NM 87501 USA
Contact: Steve Knuth
Ph: 518-669-9227
Email: sbknuth@tandd.com
Website: www.tandd.com
T&D Corporation manufactures a complete line of network connected and stand-alone Data Loggers that are optimized for automated, error free data collection, remote monitoring and warning notification. T&D's products offer an extensive array of connectivity options including loggers with built-in network interfaces, wireless handheld data shuttles, network and cellular gateways, and even BlueTooth interfaces for direct connection to smart phones and tablets. Developed specifically for Museum and Archive applications, T&D produces 4 in 1 loggers that record Temperature, Humidity, Illuminance, and Ultra Violet light, that also maintain internal running exposure totals. T&D offers an exceptional value proposition to its customers through its completely free WebStorage Service. T&D Corporation, the world's leading supplier of wireless data loggers, is headquartered in Matsumoto Japan, and has been engaged in the design, development and manufacture of high reliability, high quality electronic measurement systems since 1986.
University Products, Inc.
PO Box 101, Holyoke, MA 01041 USA
Contact: John A. Dunphy
Ph: 413-532-3372 Fx: 800-532-9281
Email: jadunphy@universityproducts.com
Website: www.universityproducts.com
University Products, the leading supplier of conservation tools, equipment and archival storage enclosures, provides a variety of new tools and equipment for conservation. Working with our international partners, Preservation Equipment (PEL) in Europe and Marco Polo in Mexico, University Products selection of tools and equipment is the most complete selection of products specifically designed for AIC members.
SILVER LEVEL
BMS CAT
5718 Airport Freeway, Haltom City, TX 76117 USA
Contact: Matt Jaroma
Ph: 313-320-1877
Email: mjaroma@bmscat.com
Website: www.bmscat.com
BMS CAT offers restoration and reconstruction services to customers all over the world. Over the years, we have helped thousands of clients recover from disasters – both big and small. By providing recovery services to mitigate fire, water and storm damage, we help reestablish businesses and restore communities. When Mother Nature or man-made accidents strike, we are there for you with a full range of disaster recovery and restoration services. Founded in 1948, our company has the experience, equipment and people to handle any size restoration job.
Conservation by Design
2 Wolseley Rd., Kempston, Bedford, MK42 7AD United Kingdom
Contact: Lesley Jones
Ph: 011-44-(0)1234-846333
Email: lesley.jones@cxdinternational.com
Website: www.cxdinternational.com
Conservation by Design is a part of an international group of complimentary companies dedicated to working with conservators from museums, galleries, libraries and archives around the world, in the protection of our cultural heritage. We believe in a holistic approach to conservation, understanding the essential value of "joined-up" thinking, in the development of innovative solutions that enable the long-term display, storage and survival of valuable materials.
Crystalizations Systems, Inc.
1401 Lincoln Ave., Holbrook, NY 11741 USA
Contact: Patricia Ellenwood
Ph: 631-467-0090 Fx: 631-467-0061
Email: info@csistorage.com
Website: www.csistorage.com
CSI's newest innovations, the secure and eminently maneuverable Transporter 101 and 201, arrive fully assembled and are changing how conservators move collections and exhibitions, room to room, gallery to gallery and location to location. CSI has manufactured storage solutions for leading museums, galleries, and private collections since 1976. All CSI storage systems, including Moving Painting, Rolled Textile and PerfectFit Kits, incorporate the masterful application of superior design, quality aluminum materials and aerospace engineering manufacturing techniques.
Gaylord Archival
PO Box 4901, Syracuse, NY 13212 USA
Contact: Ronda Buck
Ph: 800-448-6160 Fx: 800-272-3412
Email: sales@gaylord.com
Website: www.gaylord.com
Visit Gaylord Archival to see our new and innovative Frank Showcase System! It's the first patented, fully demountable acrylic showcase system in the world—it ships flat! Let us help you bring your exhibit to life with our unparalleled selection of cases, as well as everything you need to prepare, install, display and protect your collections. If you are looking for something specific, we offer unlimited options for customization. We also carry a comprehensive selection of preservation products and conservation materials, many of which are handcrafted at our headquarters, so we can respond quickly to your custom requirements. Our wide array of museum-quality cabinets, art storage systems and flat files address your long-term storage needs. To maintain your storage environment, look to Gaylord Archival for environmental controls and monitoring devices that will suit any need or budget. Learn more about our products by visiting our website.
Onset HOBO Data Loggers
470 McArthur Blvd., Bourne, MA 05232 USA
Contact: Sean Kelly
Ph: 508-743-3155
Email: sean_kelly@onsetcomp.com
Website: www.onsetcomp.com
Used in museums, archives, and exhibit spaces worldwide, Onset's award-winning Bluetooth-enabled HOBO temperature and humidity data loggers protect irreplaceable objects, including the best-surviving copy of the Magna Carta, which was on display to commemorate the document's 800-year anniversary. And with the new MX Gateway, users can remotely manage data, receive alarm notifications via email or text, and create custom dashboards in HOBOlink, Onset's cloud software. Based on Cape Cod, Massachusetts, Onset has been designing and manufacturing its products on site since the company's founding in 1981.
Opus Instruments (Atik Cameras)
Virtual Meet & Greet: June 15; July 23
Unit 8 Lodge Farm Barns, New Rd., Norwich, Norfolk NR9 3LZ United Kingdom
Contact: Catherine Wilkinson
Ph: 011-44-(0)1603-740397
Email: hello@opusinstruments.com
Website: www.opusinstruments.com
Opus Instruments are the team behind the world's leading cameras for Infrared Reflectography. The renowned Apollo camera has been used to examine hundreds of artworks at leading institutions, galleries and auction houses around the globe, making notable contributions within the fields of both art conservation and art history. Apollo allows you to capture and explore infrared reflectographs in more depth and detail than ever before.
Prairie Paper, University of Illinois, Library
1408 West Gregory Dr., Rm 425, Urbana, IL 61801 USA
Contact: Jennifer Hain Teper
Ph: 217-244-5689
Email: jhain@illinois.edu
Website: freshpress.studio/prairiepaper
Prairie Paper is a sustainable option for conservation and the fine arts, ideal for case bindings, printable, and available in multiple weights. All papers have a relatively stable pH and minimal color change after artificial aging. Our carbon footprint is significantly lower than traditional paper-making studios from using locally sourced ingredients, solar powered studios, and high-efficiency stoves for cooking fibers.
REL, Inc.
57640 North Eleventh St., Calumet, MI 49913 USA
Contact: Robert Sturos
Ph: 906-337-3018 Fx: 906-337-2930
Email: robert.sturos@relinc.net
Website: www.relinc.com
REL is an Original Equipment Manufacturer located in Michigan's Upper Peninsula. REL has inherent knowledge of material deformation, energy absorption and machining. This understanding allows REL to design, develop, and manufacture the most severely tested, inspection products on the market. REL's product line consists of the most space efficient FPI systems and highly engineered LED lighting solutions for Non-Destructive Evaluation.
SmallCorp
Virtual Meet & Greet: July 9; August 3
19 Butternut St., Greenfield, MA 01301 USA
Contact: Michael Dunphy
Ph: 413-772-0889 Fx: 413-773-7386
Email: mdunphy@smallcorp.com
Website: www.smallcorp.com
SmallCorp manufactures products for the display, conservation and storage of works of art, textiles and objects. Our frames and display cases figure prominently in museum and corporate collections. SmallCorp customers include picture framers, galleries, art conservators and related institutions, and professionals.
Studio Arts College International
454 W. 19th St., New York, NY 10011 USA
Contact: Racini Aranda
Ph: 212-248-7225 Fx: 212-248-7222
Email: raranda@saci-florence.edu
Website: saci-florence.edu
Studio Arts College International (SACI) is more than an opportunity to study abroad in Florence, the birthplace of the Renaissance. Accredited by the National Association of Schools of Art and Design (NASAD), SACI offers a wide range of innovative, hands-on graduate and undergraduate programs in traditional and contemporary studio arts, design, conservation, art history, and Italian language and culture. Programs integrate diverse disciplines and emphasize the essential role of art and design in how we shape and sustain our planet both socially and environmentally.
STANDARD LEVEL
Applied Surface Technologies
15 Hawthorne Drive, New Providence, NJ 07974 USA
Contact: Robert Sherman
Ph: 908-464-6675
Email: roberts@co2clean.com
Website: www.co2clean.com
Applied Surface Technologies will demonstrate CO2 Snow Cleaning as applied to cleaning and restoring art. We will demonstrate the CO2 Snow Cleaning units, with and without heated compressed air about the CO2 snow stream, for cleaning different materials and items. CO2 snow can remove soot, hydrocarbon oils, fingerprints, dust, particles of all sizes, polishing residues and more. Examples shown include fingerprints on a polymer structure, polishing and wax residues, soot and, more.
Barnett Technical Services
Virtual Meet & Greet: July 9; August 19
5050 Laguna Blvd., Ste. 112-620, Elk Grove, CA 95758 USA
Contact: Steve Barnett
Ph: 916-549-4423
Email: info@barnett-technical.com
Website: barnett-technical.com
Supplier of Micro Support bench top micromanipulators for precise micro-sampling on a scale that is invisible to the naked eye. We also supply larger systems to assist with restoration. Our systems include probes, knives, and scrapers to facilitate chemical analysis or cleaning. Systems can be full micromanipulators with arms or individual arms for sampling on larger works.
Carestream Non-Destructive Testing
Virtual Meet & Greet: June 15, 17; July 2
150 Verona St., Rochester, NY 14608 USA
Contact: Stephen Pflanz
Ph: 585-627-6705; Cell: 585-230-0972
Email: stephen.pflanz@carestream.com
Website: www.carestream.com/nondestructivetesting.html
Carestream NDT is a worldwide provider of X-ray imaging systems used by Art Conservatories around the world. Products include digital computed radiography (CR) systems, digital radiography (DR) systems, imaging plates, cassettes, DICONDE archiving, conventional film & chemicals, automatic film processing equipment and accessories. Our innovative solutions enable our customers' success and reveal critical information on priceless works of art and artifacts. Our award-winning products keep conservators at the forefront of technological advancements in art imaging.
CoLibrì System
8616 La Tijera Blvd., Ste. 512, Los Angeles, CA 90045 USA
Contact: Tommaso Garavaglia
Ph: 415-746-0867
Email: garavaglia@colibrisystem.com
Website: www.colibriusa.com
The CoLibrì Cover System offers the most advanced, highest quality book covering system available worldwide. Our easy and innovative system allows any type and size of book to be covered with the touch of a button. The system consists of a simple desktop machine and polyethylene covers. This carefully designed system is the simplest and most practical book covering system available.
Dorfman Museum Figures, Inc.
6224 Holabird Ave., Baltimore, MD 21224 USA
Contact: Chad Grob
Ph: 410-284-3248 Fx: 410-284-3249
Email: chad@museumfigures.com
Website: www.museumfigures.com
Dorfman Museum Figures, Inc. is the leader in creating three-dimensional Ethafoam Conservation Forms for archival display and storage of your artifact garments. Choose between our full Economy Ethafoam Man and Woman, Dress and Suit Forms, Classic Forms, Storage Hat Mounts, Conservation Hangers, and more. In addition to our standard product line, we can create custom Ethafoam forms to fit specific needs.
Getty Conservation Institute
1200 Getty Center Dr., Ste. 700, Los Angeles, CA 90049 USA
Contact: Anna Zagorski
Ph: 310-440-7325
Email: azagorski@getty.edu
Website: www.getty.edu/conservation
Getty - On Canvas: Preserving the Structure of Paintings by Stephen Hackney https://www.getty.edu/conserva...
The Getty Conservation Institute (GCI) works internationally to advance conservation practice in the visual arts—broadly interpreted to include objects, collections, architecture, and sites. The Institute serves the conservation community through scientific research, education and training, field projects, and the dissemination of information. In all its endeavors, the GCI creates and delivers knowledge that contributes to the conservation of the world's cultural heritage.
Getty Publications
Virtual Meet & Greet: July 2, 23, 28; August 10
1200 Getty Center Dr., Ste. 500, Los Angeles, CA 90049 USA
Contact: Kimberley Westad
Ph: 310-440-7506 Fx: 310-440-7758
Email: kwestad@getty.edu
Website: www.getty.edu/publications
Exhibitor Meet & GreetTopic: GCI/Getty Publication
Museum Lighting: A Guide for Conservators and Curators by David Saunders
https://www.getty.edu/conserva...
Getty Publications produces award-winning titles that result from or complement the work of the J. Paul Getty Museum, the Getty Conservation Institute, and the Getty Research Institute. This wide variety of books covers the fields of art, photography, archaeology, architecture, conservation, and the humanities for both the general public and specialists.
Hiromi Paper, Inc.
9469 Jefferson Blvd., Ste. 117, Culver City, CA 90232 USA
Contact: Yuki & Hiromi Katayama
Ph: 310-998-0098 Fx: 310-998-0028
Email: yuki@hiromipaper.com
Website: www.hiromipaper.com
Specializing in papers from Japan and around the World since 1988, Hiromi Paper, Inc. has been devoted to the creation of a greater rapport between Japanese papermakers, conservators, printers, artists, and bookmakers, while developing new directions and a deeper understanding of Japanese papers or WASHI. We not only strive to support papermakers and the traditions, but to also grow with the present and future needs of the people that use the papers.
Hirox-USA, Inc.
100 Commerce Way, Ste. 4, Hackensack, NJ 07601 USA
Contact: Edvina Bassano
Ph: 201-342-2600 Ext 205 Fx: 201-342-7322
Email: info@hirox-usa.com
Website: www.hirox-usa.com
Hirox is the pioneer of 3D Digital Microscope System. Our digital microscope system is a versatile tool for measurement, recording, and see things "as they truly are." Hirox's high-quality optical and lighting designs allow a magnification range of 0x-10,000x, live focus, and real-time 2D/3D tiling with an automated XY stage.
Huntington T. Block Insurance Agency, Inc.
Virtual Meet & Greet: July 16, 27; August 17
1120 20th St. NW, Ste. 600, Washington, DC 20036 USA
Contact: Ever Song
Ph: 202-429-8506 Fx: 312-381-0698
Email: ever_song@aon.com
Website: www.huntingtontblock.com
The American Institute for Conservation (AIC) and Huntington T. Block Insurance Agency, Inc. (HTB) have partnered to provide AIC's members with the Conservator's Insurance Program – an insurance solution customized to your unique exposures.
Jack Richeson & Co.
557 Marcella St., Kimberly, WI 54136 USA
Contact: Chrissy Stuczynski
Ph: 920-738-0744 Fx: 920-738-9156
Email: chrissys@richesonart.com
Website: richesonart.com
Jack Richeson & Co. is a manufacturer of fine art materials and BEST stretcher bars. We are dedicated to ensuring that you receive a quality product that is always in stock with on-time shipments and superior customer service. BEST museum quality stretcher bars are available in six profiles from 8" to 144". Every bar is selected from the finest raw materials and must be free of knots and completely straight.
Middleton Spectral Vision
8505 University Green, Middleton, WI 53562 USA
Contact: Chris Draves
Ph: 608-831-2141 Fx: 608 831 3076
Email: chris.draves@middletonspectral.com
Website: www.middletonspectral.com
Middleton Spectral Vision is an innovative company specializing in hyperspectral imaging and spectroscopy. Art and cultural heritage are an important area of interest to us. Hyperspectral imaging is a proven technique for looking at underdrawings in paintings, color analysis, and chemical composition. We seek to develop easy to use systems that deliver high-quality images along with powerful analysis software to assist in the understanding of valuable works of art.
MuseuM Services Corporation
385 Bridgepoint Way, South St. Paul, MN 55075 USA
Contact: Linda Butler
Ph: 651-450-8954 Fx: 651-554-9217
Email: info@museumservicescorporation.com
Website: www.museumservicescorporation.com
MuseuM Services Corporation would like to thank the art conservation community for its support in this, our 40th anniversary year. MuseuM Services Corporation remains committed to safely and efficiently serving you with equipment, supplies and services. Please check out our newly launched website and call or email us with your conservation equipment and supply needs.
National Center for Preservation Technology & Training (NCPTT)
645 University Parkway, Natchitoches, LA 71457 USA
Contact: Jason Church
Ph: 318-356-7444 Fx: 318-356-9119
Email: jason_church@contractor.nps.gov
Website: www.ncptt.nps.gov
The National Park Service's National Center for Preservation Technology and Training protects America's historic legacy by equipping professionals in the field of historic preservation with progressive technology-based research and training. Since its founding in 1994, NCPTT has awarded over $7 million in grants for research that fulfills its mission of advancing the use of science and technology in the fields of archaeology, architecture, landscape architecture and materials conservation.
NEDCC | Northeast Document Conservation Center
100 Brickstone Square., Andover, MA 01810 USA
Contact: Bill Veillette
Ph: 978-470-1010 Fx: 978-470-6021
Email: info@nedcc.org
Website: www.nedcc.org
Founded in 1973, NEDCC | Northeast Document Conservation Center specializes in the preservation of paper-based materials for cultural institutions, government agencies, and private collections. NEDCC serves clients nationwide, providing conservation treatment for book, photograph, and paper collections, including works of art on paper, Asian art, and oversize works. NEDCC provides digital imaging, audio preservation, assessments, consultations, training, and disaster assistance, and is a trusted resource for preservation information worldwide.
Print File, Inc.
1846 S. Orange Blossom Trl., Apopka, FL 32703 USA
Contact: Gene Amoroso
Ph: 407-886-3100 Fx: 407-886-0008
Email: gene@printfile.com
Website: www.printfile.com
Print File Archival Storage at www.printfile.com, is your complete source for innovative product solutions that include traditional or digital photographic presentation and storage needs as well as the lowest prices on all document and paper-borne storage materials. With Print File's expertise, spanning more than 50 years, institutions have been using Print File products in housing their valuable collections and archives. Print File's commitment to deliver only the highest quality products throughout the world has established our reputation as the world leader in museum quality storage. Print File Archival Storage will continue to be your partner in preserving the memories of yesterday, for the appreciation of tomorrow's generations.
RH Conservation Engineering
"Meakins Rise" 16 Meakins Rd., Flinders, Victoria 3929, Australia
Contact: Robin Hodgson
Ph: 011-61-419-892919
Email: rhe@rhconservationeng.com
Website: www.rhconservationeng.com
Established in 1991 by conservator Robin Hodgson, RH Conservation Engineering is a research driven supplier of the most innovative, technically advanced and aesthetically pleasing equipment available, providing consistent quality results in the conservation of human artistic and cultural heritage. Many of the materials and manufacturing techniques used in our equipment come from the aerospace, electronics, and advanced manufacturing industries.
Spacesaver
Virtual Meet & Greet: June 16; August 17
1450 Janesville Ave., Fort Atkinson, WI 53538 USA
Contacts: Ben Adamitus
Ph: 920-563-0782
Email: badamitus@spacesaver.com
Website: www.spacesaver.com
Protect the past and prepare for the future with reconfigurable museum cabinets, shelving, art screens, compactors, and more. Spacesaver's engineers and project managers team up with your local distributor to provide design assistance, installation, and maintenance for any collections care space, large or small. Call 800-255-8170 to arrange a free on-site consultation or visit us at Spacesaver.com.
Talas
330 Morgan Ave., Brooklyn, NY 11211 USA
Contacts: Jacob Salik
Ph: 212-219-0770
Email: jake@talasonline.com
Website: www.talasonline.com
Bookbinding, Conservation and Archival supplies. Visit our website to see our most recent catalogs and featured new products.
Zarbeco, LLC
Virtual Meet & Greet: July 7; August 6
52 Main St., Ste. 1, Succassunna, NJ 07876 USA
Contact: Meryl Zweig
Ph: 973-933-2043 Fx: 973-933-2336
Email: mzweig@zarbeco.com
Website: www.zarbeco.com
We will be presenting our MiScope Megapixel MP3 and our new "premium plus" MiScope Megapixel MP4K. These USB 3 powered devices are portable, lightweight, have a small footprint, and are available for every budget. Their micron level resolution, excellent color accuracy and included precision measurement software with patented calibration tools will improve your process and documentation to image and record the finest details and color pigments for your own purposes or to share with colleagues, or customers. We will demonstrate how the MiScope can be used for art conservation and restoration to image book and paper, photographs, fabric, paintings, objects, historic buildings, sculptures, and anywhere you want to image for damages, to compare and match pigments, or to look to see if something is an original or a copy. Proudly designed and built in New Jersey since 2001.
Key:

Complete

Next

Failed

Available

Locked