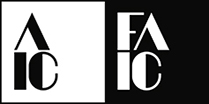 Online Community
TechFocus IV: Caring for 3D Printed Art
This program has been postponed until 2021 due to the COVID-19 health crisis. New dates coming soon.
2021 Dates TBD
SFMOMA, San Francisco, CA
3D printing, also known as rapid prototyping or additive manufacturing, is being utilized by architects, designers, artists, and consumers, and is becoming increasingly common and technically sophisticated. In short, it describes the process of creating a three-dimensional object via computer-aided design (CAD) programs and digital files, printing it using a range of materials from plastic to metal more conventionally, to all kinds of experimental materials like chocolate or shrimp shells. Originated as a technology to rapidly produce prototypes, 3D printed artworks are now progressively entering collections. While long-term condition prognosis still awaits discovery, some printing materials are known to quickly yellow and degrade. At the same time, the inherent reproducibility of the technology challenges us to rethink appropriate preservation measures for cases where the boundaries of what constitutes the "original object" may not be as clearly defined.
The goal of the program is to address caretakers and creators alike and help them understand these objects' technology, risks, and requirements. In this way, the conference will serve as a platform to develop guidelines within the community towards the long-term stewardship of both the printed object and accompanying digital files necessary if reprinting becomes a viable option. The two-day program will include a basic introduction on the first day and more intermediate level lectures and hands-on demonstrations on the second day.
Speakers and additional program information will be available in Spring 2020. Content for this program is organized by a committee of the American Institute for Conservation's Electronic Media Group.
Students can receive a discounted registration rate of $100 by emailing a copy of their student ID to learning@culturalheritage.org.
Registration Policies
Workshops are subject to cancellation if minimum enrollment is not met 30 days prior to the event. FAIC will refund the full registration fee, but is not responsible for transportation, housing, loss of income, or other costs.
Emergency school closings in the community where the workshop is scheduled will cause a cancellation of that workshop. Every effort will be made to reschedule the event.
If a registrant can no longer attend the workshop, registration fees will be refunded minus a $25 processing fee when a cancellation request is made in writing and received by the FAIC office at least 30 days before the program start date.
We ask that anyone requiring Americans with Disabilities Act accommodations register his/her needs with FAIC at least 14 days before the workshop.
By attending an FAIC workshop, you consent to interview(s), photography, audio recording, video recording and its/their release, publication, exhibition, or reproduction to be used for promotional purposes, marketing, inclusion on websites, social media, or any other purpose by FAIC and its affiliates and representatives. Images, photos, and/or videos may be used to promote similar AIC/FAIC events in the future, highlight the event, and exhibit the work of AIC/FAIC.
---
Funding for this program comes from a grant from the National Endowment for the Arts. Additional funding comes from the Foundation for Advancement in Conservation (FAIC) Endowment for Professional Development, which was created by a grant from The Andrew W. Mellon Foundation and is supported by donations from members of the American Institute for Conservation (AIC) and its friends. Courses are made possible with the assistance of many AIC members, but no AIC membership dues were used to create or present this course.
Without support, the registration fee for this workshop would be $500. FAIC relies on your contributions to support these and its many other programs. Learn more about donating to the foundation here.
Key:

Complete

Next

Failed

Available

Locked
10/05/2020 at 9:00 AM (EDT) | 1 day, 8 hours
10/05/2020 at 9:00 AM (EDT) | 1 day, 8 hours