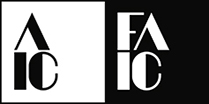 Online Community
2020 AIC Virtual Annual Meeting
Includes a Live Event on 05/28/2020 at 1:00 PM (EDT)
Recorded On: 05/21/2020
Join us for AIC's 48th Annual Meeting, now held virtually online.
Register
Register today to engage with over a hundred hours of professional presentations on conservation issues, techniques, and advances.
Student members need to use a special discount code to register at the student rate.
If you cannot register using the link above, use our printable, fillable registration form below. Please email, if possible, as we are still under work-from-home orders. You can use this form for group registrations as well.
AIC Virtual Meeting Registration Form
Sessions
They are planned by topic or specialty and will include posters with individual presentations and discussion.
They are scheduled from May through August.
The schedule of individual presentations are in two-hour blocks and take place from 1:00 – 3:00 p.m. Eastern Time.
They will include two to four talks or panels. Individual presentations are not each two hours long. They will just each take place within that block of time.
They are listed in the Content tab above.
They are not visible through a mobile device or tablet in either live or recorded format. You must use a desktop or laptop to access.
They will be available for viewing by registrants until the end of the calendar year.
Meeting Theme
This meeting's theme is "Conservation: Reactive and Proactive." We work in a rapidly changing world. Globally, the economy is volatile, the marketplace demanding, and the negative impact of climate change looms large in conservation. Many collecting institutions have shifted their priorities to preventive conservation for collections and interactive learning in exhibitions, which can decrease emphasis on traditional conservation treatment and the supremacy of original display materials. Conservation professionals are drawing from a wide skill set to respond to these challenges in creative and productive ways. From offering conservation services that go beyond treatment, to focusing on sustainability, to utilizing materials science and technical art history in public education, our field is adapting and evolving. In 2020, we'll explore ways we can anticipate and embrace change. How are you meeting your biggest challenges? Please join us to share your triumphs and reflect on areas for growth.
Key:

Complete

Next

Failed

Available

Locked