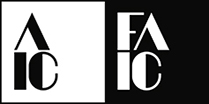 Online Community
Data Analysis & Visualization for Conservation Professionals: Part 1
Includes a Live Event on 01/12/2021 at 1:00 PM (EST)
Registration Closed. Maximum Number of Registrants reached.
Online course
January 12 - February 23, 2021
The waitlist for this course is currently closed. Please keep an eye out for announcements regarding future programming.
Data Analysis and Visualization for Conservation Professionals is a two-part course designed to introduce conservators and cultural heritage professionals to the fundamentals of working with data sets. Numerous types of projects within conservation and preservation can benefit from data-driven tools and methods. Both small and large data sets are now commonly collected and readily accessible for querying. While many are familiar with conventional tools such as Microsoft Excel, a broader picture of strategy, reasoning, and specific tools will open up the possibilities for more successful projects.
Part 1 which will teach participants statistical reasoning, ethics and bias in data collection, data formats, data extraction, database design, and data scrubbing. Participants will learn to properly plan for and collect data sets so they can perform statistically sound analysis. Part 2 will introduce tools for analysis of text, numeric, and image data sets, visualization of data, and dissemination. Participants will learn multiple methods for data analysis and visualization with both open-source and proprietary tools using various tools with a focus on open source software. After completion of part one and two of the course participants will be able to collect and organize data in strategic ways, use common open-source data collection and management tools, evaluate data-driven projects and publications in cultural heritage, recognize questions that can be answered with data driven methods, and recognize when to seek a collaborator and how to find one.
This is Part 1 only. Participants are encouraged to participate in both parts, although it is not required. Registration for Part 2 will be available in early 2021 and priority will go to those who participate in Part 1. Those who do not participate in Part 1 may participate in Part 2, but will be required to purchase and complete a self-study version of Part 1. Space is limited in order to allow for discussion and individual feedback from the instructors.
The live sessions for the course will take place in Zoom and live captions will be available.
Fundamentals of Thinking Quantitatively with Diana Greenwald
January 12: Live session at 1:00 - 3:00 p.m. Eastern Time
January 16: Optional assignment due

Working with Existing Data Sets with Diana Greenwald
January 19: Live session at 1:00 - 3:00 p.m. Eastern Time
January 23: Optional assignment due

Data Collection 1 with Lee Ann Daffner
January 26: Live session at 1:00 - 3:00 p.m. Eastern Time
January 30: Optional assignment due

Data Collection 2 with Lesley Langa
February 2: Live session at 1:00 - 3:00 p.m. Eastern Time
February 6: Optional assignment due

Data Review with Kelly Davis
February 9: Live session at 1:00 - 3:00 p.m. Eastern Time
February 13: Optional assignment due
Fundamentals of Databases with Kelly Davis
February 16: Live session at 1:00 - 3:00 p.m. Eastern Time
February 20: Optional assignment due

All live sessions will be recorded and accessible to participants shortly after the session is complete.
---
This program is an FAIC Collaboration Workshop in Photograph Conservation. This series of workshops was initiated by Debra Hess Norris and Nora Kennedy in 1997, with funding from The Andrew W. Mellon Foundation. The program became part of the FAIC professional development program in 2009, under an endowment grant from The Andrew W. Mellon Foundation.
The FAIC Collaborative Workshops in Photograph Conservation Endowment was created by a grant from The Andrew W. Mellon Foundation and is supported by donations from members of the American Institute for Conservation and its friends. Courses are made possible with the assistance of many AIC members, but no AIC membership dues were used to create or present this course.

Without support, the registration fee for this course would be over $400. FAIC relies on your contributions to support these and its many other programs. Learn more about donating to the foundation here.
Lee Ann Daffner
Lee Ann Daffner is the Andrew W. Mellon Conservator of Photographs at The Museum of Modern Art where she established the museum's first photograph conservation section in 1998. She received her M.A. in Art Conservation from the University at Buffalo, State University of New York in 1994. Before joining MoMA, she held conservation appointments at The Metropolitan Museum, Harvard University, The Library of Congress, and The Better Image.
Daffner oversees the conservation and preservation of all the photographs in the museum, located in every curatorial department, library and archives. Daffner promotes materials-based scholarship and assimilation of this content in curatorial, technical art history and academic initiatives. From 2009 to 2015, she directed the conservation portion of the cross-disciplinary study of the Museum's Thomas Walther Collection of Modernist Photography, co-edited the Object:Photo print and online publications, and has contributed essays to numerous exhibition catalogues. She currently serves as Associate Editor for JAIC.
$i++ ?>
Kelly Davis
Kelly Davis is a data manager of the Getty Provenance Index, a database for the field of collecting and provenance. She completed her Master's from Pratt Institute in 2014, in the fields of Library Science and Art History. Her work is focused on updating and maintaining an excellent research tool by standardizing metadata, conforming to internal schema and reconciling entities. She's known as an "Open Refine guru" at the Getty, and works frequently with that program and other data science methods.
$i++ ?>
Diana Greewald
Diana Seave Greenwald is an art historian and economic historian. Her work uses both statistical and qualitative analyses to explore the relationship between art and broader social and economic change during the nineteenth and early twentieth centuries, particularly in the United States and France. Her first book, Painting by Numbers: Data-Driven Histories of Nineteenth Century Art, will be published by Princeton University Press in February 2021.
Diana is currently the Assistant Curator of the Collection at the Isabella Stewart Gardner Museum in Boston. Prior to joining the Gardner, she was an Andrew W. Mellon Postdoctoral Curatorial Fellow at the National Gallery of Art in Washington, D.C., working in the departments of American and British Paintings and Modern Prints and Drawings.
She received a D.Phil. in History from the University of Oxford. Before doctoral study, Diana earned an M.Phil. in Economic and Social History from Oxford and received a Bachelor's degree in Art History from Columbia University.
$i++ ?>
Lesley Langa
Dr. Langa is a strategic research and program manager with over 15 years of experience managing national initiatives that address the needs of libraries, museums and other heritage institutions. Her work focuses on the big picture of cultural heritage, including an individual's experience with it, how we protect it, how we support the cultural sector, how we care for it and evaluating the mechanisms we use to do all of this. Her work has spanned several areas including digital collections, metadata management, evaluation and research, and user experience across the cultural heritage sector in museums, federal cultural agencies, and small nonprofits. Using this diverse background, Dr. Langa sets out to find the answers to questions that can affect practice in the field and deliver practical solutions for cultural heritage professionals. She runs a consulting firm, NovaKultura, and recently completed a PhD at the University of Maryland's iSchool.

$i++ ?>
This content will not be available until 01/05/2021 at 12:00 AM (EST)