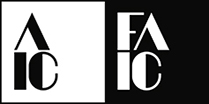 Online Community
Facilitating Decision-making Through Analysis of Temperature and Relative Humidity Data (August 2020)
Includes a Live Event on 08/13/2020 at 1:00 PM (EDT)
Registration Closed. Maximum Number of Registrants reached.
August 13, 20, and 27, 1:00 - 3:00 p.m. EDT, Online
Virtual Annual Meeting Workshop
Instructors: Vincent Beltran, Annelies Cosaert, Jeremy Linden
Sponsor: Getty Conservation Institute
The cultural heritage field has developed and utilized various tools to facilitate decisions associated with object and collection conservation. These tools consider an assortment of data associated with topics such as risk assessment, integrated pest management, and the collection environment. The focus of this workshop will be on the examination of tools to analyze temperature (T) and relative humidity (RH) data, as the collection of this information is a fundamental aspect of collection management.
The Managing Collection Environments Initiative at the Getty Conservation Institute (GCI) has explored environmental analysis tools which can inform daily practice. There exist a range of available T and RH data analysis tools and interviews with practitioners have identified the benefit of employing complementary tools to enable greater understanding and improve communication with stakeholders, including conservators, collection managers, curators, facilities managers, engineers, and architects. These T and RH analysis tools are appropriate for smaller datasets, making this workshop particularly well-suited for those in small or mid-size institutions.
These tools might be useful for situations such as:
Exploring the redefinition of environmental set-points towards a more sustainable practice
Comparing environmental requirements based on collection composition and the existing building climate
Examining the potential consequences of moving objects between two different climates
Analyzing display case performance
Despite these potential advantages, it can be a daunting task to gain familiarity with the various analysis and visualizations options and how they might be most effectively employed, navigate the specific features of these tools, and devote the necessary time required to become proficient users. This workshop will help practitioners, consultants, and students by summarizing various analysis and visualization choices, as well as presenting an environmental tools analysis conducted by the GCI to guide selection of the most appropriate tool for a specific context. A series of case studies will then be presented showing how collection and analysis of environmental data can address challenges associated with the collection and building environment.
This workshop will be separated into three live sessions:
Session 1: Course Introduction, Fundamentals of Data analysis and Visualization (Instructor: Vincent Laudato Beltran)
Discussion of 2019 meeting on tool development and use
Introduction to GCI's Excel tools suite to analyze and visualize T and RH data
Session 2: Survey of Online Tools to Analyze T and RH Data (Instructor: Annelies Cosaert)
Comparison of numerical/visual outputs, how they address risk, how they can be used as a communication tool
Session 3: Case studies: Application of T and RH Data Analysis (Instructor: Jeremy Linden)
How environmental analysis can support decision-making on museum environmental strategies
Vincent Beltran
Vincent Laudato Beltran is an Assistant Scientist at the Getty Conservation Institute (GCI) and active in the Managing Collection Environments (MCE) Initiative. Much of his research has revolved around the analysis and interpretation of environmental data. He has participated in GCI projects examining the environment at heritage sites such as the Tomb of Tutankhamun (Luxor, Egypt), Mogao Caves (Dunhuang, China), and Eames House (Los Angeles, California, United States). A research focus on historic buildings and museum storage located in high thermal and moisture zones was summarized in the book, 'Environmental Management for Collections: Alternative Conservation Strategies for Hot and Humid Climates', co-authored with Shin Maekawa and Michael C. Henry. He was an instructor on the topics of Environmental Monitoring and Data Analysis and Visualization for the MCE course, 'Preserving Collections in the Age of Sustainability', and served on the sub-committee responsible for the revision of the 2019 ASHRAE chapter on 'Museums, Galleries, Archives, and Libraries', which bridges the engineering and cultural heritage communities. Additional research interests include the mechanical characterization of historic materials, assessment of the art transit environment, and advancing microfading tester practice for the field. He holds a B.S. in General Chemistry from the University of California, Los Angeles, and an M.S. in Oceanography (Geochemistry) from the University of Hawaiʻi at Manoa.
$i++ ?>
Annelies Cosaert
Annelies Cosaert, a native of Belgium, received her Master's degree in Conservation and Restoration with honors from the University of Antwerp in 2014. Although her initial area of specialty was glass, metals, ceramics and archeological objects, she developed a strong interest in preventive conservation. A series of short internships during her university training led to a post-graduate internship at the Royal Institute for Cultural Heritage (KIK/IRPA) where she was employed in the department of preventive conservation. At KIK/IRPA she gained experience in climate monitoring and analysis, condition reporting, and advising on the care of mixed collections. Her post-graduate internship was followed by employment at the Castle of Gaasbeek, a Museum of the Flemish Government, where she gained further practical experience in preventive conservation, including specifying conditions for new storage areas, packing and transporting art objects for exhibition, and training museum staff. Before working at the Getty Conservation Institute, she worked at Studio Wim Delvoye, where she implemented a new database system and had collection management responsibilities for the digital and physical archives. Currently Annelies has joined the Collections Department as a GCI Professional Fellow, working on the Managing Collection Environments Initiative where she is focusing on the analyses of data analyses tools in the field of preventive conservation.
$i++ ?>
Jeremy Linden
Principal, Linden Preservation Services, Inc.
Jeremy Linden has been the Principal of Linden Preservation Services, Inc., since 2017. He is an active educator and consultant, and works closely with colleagues in libraries, archives, and museums on issues of material preservation, mechanical system performance, energy-savings, and sustainability. From 2010 to 2015, while at the Image Permanence Institute, he served as the co-instructor for more than 30 workshops and webinars on sustainable preservation funded by the National Endowment for the Humanities, specifically teaching sessions on the role of dew point and moisture control in preservation environments and environmental analysis, using environmental data for analyzing preservation, building, and system performance, and mechanical operation and energy optimization for cultural heritage settings. In 2017 he was an instructor for the "Preserving Collections in the Age of Sustainability" course as part of the Getty Conservation Institute's MCE Initiative, teaching specifically on mechanical and environmental management strategies, operations, and commissioning. Over the course of the last several years he has taught workshops and webinars for the American Society of Heating, Refrigeration and Air-conditioning Engineers (ASHRAE), the Society of American Archivists (SAA), the American Institute for Conservation, the American Alliance of Museums, the Northeast Document Conservation Center, Lyrasis, and others on topics ranging from data analysis for preservation and mechanical operation, moisture management and control in mechanized and non-mechanized environments and disaster response situations, sustainable operation of preservation environments, and environmental design and construction practices for cultural heritage. Linden has served as a co-author on recent standards and guidelines from the ISO, ASHRAE, and SAA, and most recently has served as a member of the first Sustainability Task Force for the American Association of State and Local History. Jeremy earned an MLS in Information Studies and an MA in History from the University of Maryland, and a BA in History from Vassar College.
$i++ ?>
Key:

Complete

Next

Failed

Available

Locked