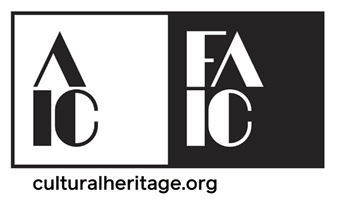 Online Community
Gels in Paper Conservation
Both agarose and gellan gum are naturally-occurring polysaccharide gels used primarily in the biological sciences and food and cosmetic industries. Through this workshop, paper conservators will develop an understanding of the gels' physical and chemical properties and how they can be tailored to suit a specific treatment. The workshop will begin with an introduction to the chemistry and mechanics of agarose and gellan gum followed by demonstrations of preparation and application. Significant time will be dedicated to hands-on work with expendable paper objects and mock-ups. Applications covered in the workshop will include both overall treatments—bathing, backing removal, and humidification—and local treatments—stain reduction, attachment removal, and solvent-based adhesive reduction—among others. There are many possible applications yet to be explored for these materials and this workshop is intended to provide an introduction to its current and potential uses.
Michelle Sullivan
$i++ ?>
Anne Maheux
$i++ ?>
Workshops are subject to cancellation if minimum enrollment is not met 30 days prior to the event. FAIC will refund the full registration fee, but is not responsible for transportation, housing, loss of income, or other costs.
Emergency school closings in the community where the workshop is scheduled will cause a cancellation of that workshop. Every effort will be made to reschedule the event.
If a registrant can no longer attend the workshop, registration fees will be refunded minus a $25 processing fee when a cancellation request is made in writing and received by the FAIC office at least 30 days before the program start date.
We ask that anyone requiring Americans with Disabilities Act accommodations register his/her needs with FAIC at least 14 days before the workshop.
By attending an FAIC workshop, you consent to interview(s), photography, audio recording, video recording and its/their release, publication, exhibition, or reproduction to be used for promotional purposes, marketing, inclusion on websites, social media, or any other purpose by FAIC and its affiliates and representatives. Images, photos, and/or videos may be used to promote similar AIC/FAIC events in the future, highlight the event, and exhibit the work of AIC/FAIC.
Funding for this program comes from a grant from the National Endowment for the Humanities (NEH). Additional funding comes from the Foundation for Advancement in Conservation (FAIC) Endowment for Professional Development, which was created by a grant from The Andrew W. Mellon Foundation and is supported by donations from members of the American Institute for Conservation (AIC) and its friends. Courses are made possible with the assistance of many AIC members, but no AIC membership dues were used to create or present this course.
FAIC relies on your contributions to support these and its many other programs. Learn more about donating to the foundatio
Scholarships up to $1,000 to help defray costs for individual members of AIC who are U.S. residents to attend this workshop. Applications are due February 15, May 15, and September 15. Notification of awards are made six to eight weeks after the deadline. Click here for more information.
Key:

Complete

Next

Failed

Available

Locked