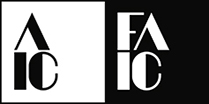 Online Community
TechFocus IV: Caring for 3D-printed Art
Includes a Live Event on 10/25/2021 at 12:00 PM (EDT)
October 25, 27, & 29, 2021 at 12:00 - 3:00 p.m. EST
Virtual symposium
3D printing, also known as rapid prototyping or additive manufacturing, is being utilized by architects, designers, artists, and consumers, and is becoming increasingly common and technically sophisticated. In short, it describes the process of creating a three-dimensional object via computer-aided design (CAD) programs and digital files, printing it using a range of materials from plastic to metal more conventionally, to all kinds of experimental materials like chocolate or shrimp shells. Originated as a technology to rapidly produce prototypes, 3D-printed artworks are now progressively entering collections. While long-term condition prognosis still awaits discovery, some printing materials are known to quickly yellow and degrade. At the same time, the inherent reproducibility of the technology challenges us to rethink appropriate preservation measures for cases where the boundaries of what constitutes the "original object" may not be as clearly defined.
The goal of this program is to address caretakers and creators alike and help them understand these objects' technology, risks, and requirements. In this way, the virtual symposium will serve as a platform to develop guidelines within the community towards the long-term stewardship of both the printed object and accompanying digital files necessary if reprinting becomes a viable option.
Participants who register by September 1 will receive a complimentary 3D-print sample set in the mail (international participants must pay a $10 shipping fee here to receive the sample set).
A $75 student registration fee is available for current students. Please send a message with your student ID to learning@culturalheritage.org to register at the student rate.
The live virtual symposium will take place on Zoom and automated live captions will be available for those who choose to use them. The program will be recorded and registrants will have access to the recordings following the live sessions.
Below is a list of topics and speakers for each day of the virtual symposium. A more detailed schedule will be available in August along with updated titles and descriptions for each talk.
This program is being made possible by the generous support of the Foundation for Advancement in Conservation and a grant from the National Endowment for the Arts. FAIC relies on your contributions to support these and its many other programs. Learn more about donating to the foundation here.
---
The TechFocus workshop series is organized by the American Institute for Conservation's Electronic Media Group to provide detailed technical education in the preservation of media art. Launched on the 10th anniversary of the groundbreaking TechArchaeology symposium that was held at the San Francisco Museum of Modern Art in 2000, TechFocus offers in-depth instruction in a broad range of media. Each workshop, hosted by a different institution, is dedicated to one specific media-art technology. A systematic lecture program, delivered by international experts, introduces workshop participants to the technology behind these artworks, and offers real-world guidelines for their preservation.
The TechFocus website offers videos of presentations made at past workshops. Please visit https://resources.culturalheritage.org/techfocus/.
---
Thank you to Martina Haidvogl, Emily Hamilton, and Alexandra Nichols for their work in planning this program.
Key:

Complete

Next

Failed

Available

Locked