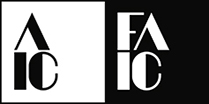 Online Community
Glass and Ceramic Conservation
The list of accommodations below has been compiled for the convenience of out-of-town visitors. Please note that AIC/FAIC and The Conservation Center (TCC) in no way endorse these businesses.
Chicago Marriott at Medical District/UIC (1.5 miles) - About a 5-10 minute drive or 15 minute bus ride with a short walk. One of the closest hotels to the workshop venue, but less dining options.
Hotel Allegro (2.7 miles) - About a 15 minute drive or 20-25 minute train ride. In the downtown loop with lots of dining and sightseeing options.
Hotel Felix (2.7 miles) - About a 15 minute drive or 20-25 minute train ride. In the downtown loop with lots of dining and sightseeing options.
There are Airbnbs in the immediate vicinity of TCC, however, there aren't many restaurants. If you would prefer to stay within walking distance of TCC, consider looking for an Airbnb closer to Chicago Ave, between Damen and Ashland - that area is about a 15-20 minute walk from TCC and has more in the way of restaurants and grocery stores).
Wicker Park is a neighborhood north of TCC with more options for food and things to do (major six-way intersection in the neighborhood is Damen/Milwaukee/North). The area is about a 10 minute bus ride or 5-10 minute drive. There are a couple traditional B&Bs and boutique hotels, such as The Robey, in that area.
The West Loop is also relatively close to TCC (just a bit southeast). It is a former meatpacking district that now houses many art galleries and restaurants. The few hotels that are in the area tend to fill up pretty quickly, but there are often Airbnbs available.
Workshops are subject to cancellation if minimum enrollment is not met 30 days prior to the event. FAIC will refund the full registration fee, but is not responsible for transportation, housing, loss of income, or other costs.
Emergency school closings in the community where the workshop is scheduled will cause a cancellation of that workshop. Every effort will be made to reschedule the event.
If a registrant can no longer attend the workshop, registration fees will be refunded minus a $25 processing fee when a cancellation request is made in writing and received by the FAIC office at least 30 days before the program start date.
We ask that anyone requiring Americans with Disabilities Act accommodations register his/her needs with FAIC at least 14 days before the workshop.
By attending an FAIC workshop, you consent to interview(s), photography, audio recording, video recording and its/their release, publication, exhibition, or reproduction to be used for promotional purposes, marketing, inclusion on websites, social media, or any other purpose by FAIC and its affiliates and representatives. Images, photos, and/or videos may be used to promote similar AIC/FAIC events in the future, highlight the event, and exhibit the work of AIC/FAIC.
This program is supported by the Foundation for Advancement in Conservation Endowment for Professional Development (FAIC). FAIC was created by a grant from The Andrew W. Mellon Foundation and is supported by donations from members of the American Institute for Conservation and its friends. Courses are made possible with the assistance of many AIC members, but no AIC membership dues were used to create or present this course.
Without support, the registration fee for this workshop would be $1,100. FAIC relies on your contributions to support these and its many other programs. Learn more about donating to the foundation here.
Stephen Koob is Chief Conservator at Corning Museum of Glass in Corning, New York. Before joining the museum in 1998, Koob worked at the Freer Gallery of Art and the Arthur M. Sackler Gallery of the Smithsonian Institution.
He is a specialist in the conservation of ceramics and glass and has also worked extensively on archaeological excavations in Greece (the Agora and Samothrace) and Turkey (Sardis and Gordion). He has a master's degree in Classical Archaeology from Indiana University and a B.Sc. in Archaeological Conservation and Materials Science from the University of London's Institute of Archaeology.
March 18 – 22, 2019
The Conservation Center, Chicago, IL
Instructor: Stephen Koob
Organizers: Heather MacGregor and Joshua McCauley
Learn about the materials science of ceramics and glass and gain understanding in loss compensation, cleaning methods, and adhesives used for these materials. Participants will engage in a series of lectures and increase skills through practical lab work in each of these areas. The workshop will also include a discussion on proper storage, highlighting temperature, humidity, and climate controls, as well as packing and handling techniques for glass and ceramic objects.
Participants will learn how to set-up the lab for the conservation of glass and ceramics, choose appropriate adhesives and consolidants, and use B-72 and epoxy adhesives. Demonstrations on loss compensation (including direct fills, detachable restorations, casting, and gap-filling), assembly of ceramics and glass, finishing of plaster and epoxy surfaces, and mechanical and solvent cleaning will be conducted. Each participant will practice the demonstrated techniques on glass and ceramic objects in the lab.
This workshop is aimed at practicing conservators, specifically those with a background in ceramic and/or glass conservation.