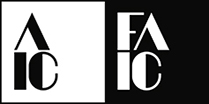 Online Community
Learning from Mistakes
Register

Non-member - Free!
Member - Free!
Goals

This platform centralizes resources relating to how and why we make mistakes, and it aims to cultivate understanding of why it's important to talk about and learn from mistakes when they do occur.
Lifelong learning is an integral part of our profession. Let's build a healthier culture together that empowers us to speak openly about our mistakes and learn from one another.
Background
In 2017, AIC's Emerging Conservation Professionals Network (ECPN) held a webinar titled "Picking Up the Pieces: Accepting, Preventing, and Learning from Mistakes as an Emerging Conservation Professional." With momentum from the webinar, some of the organizers and participants subsequently published an article titled "Oh, $#*%! Making Mistakes—and Learning from Them" in the March 2018 issue of AIC News. This led to the conception of an event at the AIC Annual Meeting to provide a broader venue for conservation professionals of all career stages to share mistakes and normalize this type of discussion. The inaugural "Mistakes" session, formally titled "A Failure Shared is Not a Failure: Learning from Our Mistakes," was held at the 2018 AIC Annual Meeting in Houston and has since been reprised annually. When the 2020 AIC Annual Meeting went virtual, so did the Mistakes Session; a recording can be found on this page and AIC's YouTube channel.
We invite you to explore content relating to these events and to the broader theme of making mistakes - including TED talks and articles - in this self-guided learning module.
Please reach out if you know of additional resources to add to this list.
Key:

Complete

Next

Failed

Available

Locked
Call for Participation in the 2021 AIC/SPNHC Joint Virtual Annual Meeting
Proposals are currently being accepted for the fourth "Mistakes" session at the 2021 Virtual Annual Meeting. The event will be free and accessible to all AIC members and will take place on Friday, May 21st, from 3:00 - 5:30 pm EST. We encourage our colleagues to share their experiences to benefit our professional community and welcome a variety of topics, including treatment errors, accidents, miscommunications, and project management mishaps, as well as more systemic issues such as gender inequity or racism.
Please consider sharing your stories by submitting a very brief (2-3 sentence) summary of your proposed topic to Tony Sigel (tony_sigel@harvard.edu), Rebecca Gridley (rebecca.ec.gridley@gmail.com), or Kari Rayner (rayner.kari.s@gmail.com) by April 1, 2020. Presentations should be 8 minutes maximum in length; powerpoints are welcome, but certainly not required. Please note that we will again make the presentations available on YouTube but can accommodate requests to remove those for presenters with privacy concerns or permissions issues.