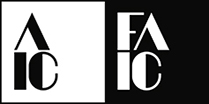 Online Community
Metal and Composite Threads in Textiles
June 8 - 10, 2022
Cleveland Museum of Art, Cleveland, OH
Instructors: Patricia Wilson Nguyen and Robin Hanson

Documenting the fibers and fabrication techniques of textiles is an important contribution conservation professionals make to the body of knowledge about a work of art. In addition to documenting the weave structure of a textile, documenting the materials from which a textile is fabricated also is key. This workshop will focus on a common component of textiles—metal thread. Collections worldwide include textiles with metal thread. Textile conservators with collections focused on Eurasian and American textiles frequently encounter this material. Used by many cultures, metal thread can be incorporated during the process of weaving a textile on a loom or added manually (by hand) or mechanically to a woven fabric as a surface decoration.
The oldest known metal thread, found in a Macedonian tomb and dating from the 4th century B.C., was a narrow strip of foil cut from a sheet of hammered gold. Metal thread can also be produced as a wire, round in cross section, and "drawn" through successively smaller holes to reach the desired diameter. Metal leaf can be adhered to paper or animal membrane and then cut into thin strips. Once created, these forms of metal thread can be wound around a silk core or around an internal form to create a spiral without a core. Metal leaf also can be applied with a resin or adhesive to a woven textile.
As metals age they become work-hardened, brittle and oxidized. This is true of metal thread as well. The aging characteristics of metal thread will be emphasized in this workshop; opportunities for close looking also will be provided in order that participants gain an understanding of metal thread degradation patterns. Instrumental analysis as a tool for conservators to confirm historical information regarding metal thread also will be discussed.
The workshop will highlight the materiality of metal thread, providing workshop participants with practical experience working with various forms of metal thread to gain an understanding of how the material behaves and the tools necessary to apply it to a textile. The workshop will combine lectures on the history of metal thread in textiles, their manufacture, and their analysis. Workshop participants will spend time in the first-hand examination of textiles in Cleveland's encyclopedic collection containing metal thread.
Rarely do conservation professionals have the opportunity to work with metal thread to fully understand changes to its physical and chemical properties over time. During this workshop, time will be dedicated to the materiality of metal thread and the hands-on experience of working with it. It is expected that both the looking and the doing components will provide the catalyst for on-going discussions over the three days among workshop leaders and participants. Participants will take away samples of various types of metal thread and the metal thread worked on textile substrates to form the beginnings of a "reference library."
FAIC and the Cleveland Museum of Art are closely monitoring the COVID-19 situation. We hope to be able to move forward with the workshop in June and encourage you register. The situation will be reevaluated in the months leading up to the workshop. Workshop participants should be vaccinated and must wear a KN95 mask that will provided. View our Help page for our cancellation policy.
---
Funding for this program comes from the Foundation for Advancement in Conservation (FAIC) Endowment for Professional Development and a grant from the National Endowment for the Humanities. The FAIC Endowment for Professional Development, which was created by a grant from The Andrew W. Mellon Foundation and is supported by donations from members of the American Institute for Conservation (AIC) and its friends. Workshops are made possible with the assistance of many AIC members, but no AIC membership dues were used to create or present this course.
FAIC relies on your contributions to support these and its many other programs. Learn more about donating to the foundation.
Robin Hanson
Associate Conservator of Textiles
Cleveland Museum of Art
Robin Hanson has managed the textile conservation lab at the Cleveland Museum of Art for the past 22 years. CMA's textile collection, numbering about 5,000 textiles, mirrors the museum's permanent collection—it is an encyclopedic one covering Egyptian mummy linen to contemporary fiber art. In 1997 Robin completed graduate training in conservation, with a specialization in textiles, at the Winterthur / University of Delaware Program in Art Conservation. She also serves as associate editor for textiles for the peer-reviewed journal, Journal of the American Institute for Conservation. Since 2015 she has served as field editor for textiles for AATA Online: Abstracts of International Conservation Literature, a compendium of 150,000 abstracts hosted by the Getty Conservation Institute.
$i++ ?>

Patricia Wilson Nguyen
PhD metallurgist and MIT-trained engineer, specialist in 17th century embroidery
Thistle Threads
$i++ ?>
Key:

Complete

Next

Failed

Available

Locked
Open to download resource.
Open to download resource.
Open to download resource.
Open to download resource.
Workshop at the Cleveland Museum of Art
06/08/2022 at 9:00 AM (EDT) | 2 days, 8 hours
06/08/2022 at 9:00 AM (EDT) | 2 days, 8 hours