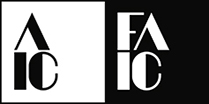 Online Community
Rigging Basics for Conservation Professionals - LA
May 18-20, 2022
LACMA, Los Angeles, CA
Instructors: Luke Boehnke, Julia Latane, Kevin Marshall, Erik Risser
This workshop will provide theoretical background and practical experience in planning and moving large and heavy museum artifacts. Techniques will be taught to assist conservation and collections care professionals in planning large artifact movement, protecting large artifacts during movement, carrying out large artifact movement, and working with rigging professionals. Instruction will be provided using equipment readily available to museum professional as well as equipment used by professional riggers such as pallet jacks, fork lifts, gantries, cranes, and compression lifting rigs. There will be case studies presented as well as demonstrations and hands-on experience with lifting and rigging equipment.
Moving heavy artifacts is commonplace in museums, especially during renovations and gallery installations. Conservation professionals are often consulted or are responsible for protecting these heavy artifacts when they are being moved. This workshop will provide participants with the background and technical details necessary for making informed decisions when hiring riggers, working with riggers, and when making decisions about rigging artifacts with or without the use of outside specialists.
Lunch and transportation between the Westin Bonaventure Hotel & Suites and the workshop will be provided. Although workshop is taking place in conjunction with the AIC Annual Meeting, we welcome participants who are not planning on attending the full conference. If you wish to register for this workshop only (not the AIC Annual Meeting), please email learning@culturalheritage.org.
FAIC is closely monitoring the COVID-19 situation. We hope to be able to move forward with the workshop in May and encourage you register. The situation will be reevaluated in the months leading up to the workshop. View our Help page for our cancellation policy.
---
Funding for this program comes from the Foundation for Advancement in Conservation (FAIC) Endowment for Professional Development and a grant from the National Endowment for the Humanities. The FAIC Endowment for Professional Development, which was created by a grant from The Andrew W. Mellon Foundation and is supported by donations from members of the American Institute for Conservation (AIC) and its friends. Workshops are made possible with the assistance of many AIC members, but no AIC membership dues were used to create or present this course.
FAIC relies on your contributions to support these and its many other programs. Learn more about donating to the foundation.
Scholarships are available to support participation in this program. Scholarship applications are due on February 15, 2022. If you anticipate needing support to attend this workshop, please apply by the deadline.

FAIC/NEH Individual Professional Development Scholarships support participants offer up to $1,500 to help defray costs associated with participation in this workshop for residents of the United States.

Luke Boehnke
Principal
Wolf Magritte LLC
Luke Boehnke is the principal of Wolf Magritte LLC, located in Missoula Montana. Wolf Magrittespecializes in design, fabrication, and rigging for difficult and/or large scale art and artifactinstallations. Luke Boehnke received his MFA from the School of the Art Institute of Chicago, andhas extensive background in sculpture, architecture, and art history. He has taught metal fabricationstudio courses for the School of the Art Institute of Chicago, and art rigging courses for the CampbellCenter, the Metropolitan Museum of Art, and the Whitney Museum of American Art. Luke's problemsolving experience base is highly comprehensive, and he has worked with numerous institutions andclients in more than thirty states and multiple countries.
$i++ ?>

Julia Commander
Alice and Herbert Sachs Conservator of Egyptian Collections
Penn Museum
Julia Commander (she/her) is the Alice and Herbert Sachs Conservator of Egyptian Collections at the Penn Museum, currently focusing on treatment and reinstallation of monumental stone architecture. Julia earned her MS from the Winterthur/University of Delaware Program in Art Conservation in 2017, specializing in objects conservation and preventive care. Experience at the American Museum of Natural History and the Gordion Excavations in Turkey supported a specific interest in archaeological materials, which was further developed through post-graduate training at the J. Paul Getty Museum Antiquities Department and a research fellowship at the Metropolitan Museum of Art.

$i++ ?>

​Julia Latané
Head of Art Preparation and Installation
Los Angeles County Museum of Art (LACMA)
Julia Latané is Head of Art Preparation and Installation at the Los Angeles County Museum of Art (LACMA). She was Head Preparator at The Broad from 2014 - 2018. For over 20 years, Ms. Latané has built and installed exhibitions in museums and galleries, including the Autry Museum, Gagosian Gallery, and the Santa Monica Museum of Art. She founded the Museum of Contemporary Art, Tucson in 1997, served as President of the Board, and curated the inaugural exhibitions. Before working in museums Julia worked in construction and studied sculpture. Julia strives to live by her ideals, taking care of the planet, and empowering people to be their best selves. She regularly speaks at conferences and workshops on creating equitable and inclusive workplaces and on the technical aspects of being an art handler.
$i++ ?>

Kevin Marshall
Head of the Preparation Department (retired)
J. Paul Getty Museum
Kevin Marshall retired as the Head of the Preparation Department for the J. Paul Getty Museum at the Getty Center and the Getty Villa in July 2021. He served as the Head of the Preparation Department between 2010-2021 with a staff of 23. From 2005 - 2010 he was the Lead Preparator at the Getty Villa where he managed the collection move and oversaw installation of the permanent collection of Antiquities and special exhibitions. From 1995 - 2005 Kevin was the Lead Preparator for the pack and move of the permanent collections to the Getty Center and collection installation as well as special exhibitions. Prior to joining the Getty, Kevin was a Special Services Supervisor for Fine Arts Express in Fort Worth Texas from 1985 - 1995. Prior to that he was a Driver/Art Handler with Direct Art Delivery in New York, NY. 1984 - 1985; and Preparator at the Amon Carter Museum in Fort Worth, Texas 1983 – 1984.
$i++ ?>

Erik Risser
Associate Conservator of Antiquities
J. Paul Getty Museum
Erik Risser is an Associate Conservator of Antiquities at the J. Paul Getty Museum and has an on-going interest in the conservation of large-scale stone and bronze sculpture. He has undertaken and directed conservation activities and architectural anastylosis projects on archaeological sites in Italy, France, and Turkey. In addition to working with the permanent collection he has carried out several long-term collaborative initiatives with various national and international institutions, including the Los Angeles County Museum of Art, the Santa Barbara Museum of Art, the Nelson-Atkins Museum of Art, the Museo Paolo Orsi (Syracuse, Italy), the Museo Archeologico Nazionale di Napoli (Naples, Italy), the Pergamon Museum (Berlin, Germany), Staatliche Kunstsammlungen Dreden (Dresden, Germany) and the Kunsthistorisches Museum Wien (Vienna, Austria).
$i++ ?>
Key:

Complete

Next

Failed

Available

Locked