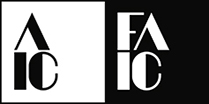 Online Community
Traditional Techniques in the Conservation of Leather Bookbindings
July 30 – August 2, 2019
University of Washington Libraries, Seattle, WA
Instructor: James Reid-Cunningham
Organizer: Justin Johnson
Damaged leather bookbindings pose a great challenge to book conservators, and traditional leather rebacking is the single most difficult treatment for a book conservator to master. This workshop will examine how leather rebacking techniques can be improved by re-evaluating the process according to contemporary conservation principles.
In the traditional technique of rebacking, the original spine was removed and the board leather lifted at the spine edge. New tanned leather, dyed to match the original binding and pared extremely thinly, was inserted beneath the original leather before the spine was re-adhered. A survey of improvements in the process includes enhancements in board attachment, contemporary adhesives and suitable leathers, as well as the use of stronger and more chemically stable alternatives to tanned leather.
The workshop will cover a range of topics including dyeing and lifting leather, board attachment, paring leather, covering, and in-painting. Participants will learn techniques for the repair of both tight back and hollow back bindings. The workshop will include in-depth discussions of issues relating to leather stability, repair papers, dyes, surface coatings, leather consolidation, adhesives, and tools for working in leather. Lectures and demonstrations will alternate with hands-on bench work under supervision.
James Reid-Cunningham is a book and paper conservator in private practice. He spent thirty years as a conservator at Harvard University and the Boston Athenaeum, and served as the President of the Guild of Book Workers from 2006 to 2010. From 2009 to 2013, he was the adjunct lecturer on book conservation in the graduate art conservation department at Buffalo State College.
This program is supported by the Foundation of the American Institute for Conservation of Historic and Artistic Works Endowment for Professional Development (FAIC). FAIC was created by a grant from The Andrew W. Mellon Foundation and is supported by donations from members of the American Institute for Conservation and its friends. Courses are made possible with the assistance of many AIC members, but no AIC membership dues were used to create or present this course.
Without support, the registration fee for this workshop would be $800. FAIC relies on your contributions to support these and its many other programs. Learn more about donating to the foundation here.
Workshops are subject to cancellation if minimum enrollment is not met 30 days prior to the event. FAIC will refund the full registration fee, but is not responsible for transportation, housing, loss of income, or other costs.
Emergency school closings in the community where the workshop is scheduled will cause a cancellation of that workshop. Every effort will be made to reschedule the event.
If a registrant can no longer attend the workshop, registration fees will be refunded minus a $25 processing fee when a cancellation request is made in writing and received by the FAIC office at least 30 days before the program start date.
We ask that anyone requiring Americans with Disabilities Act accommodations register his/her needs with FAIC at least 14 days before the workshop.
By attending an FAIC workshop, you consent to interview(s), photography, audio recording, video recording and its/their release, publication, exhibition, or reproduction to be used for promotional purposes, marketing, inclusion on websites, social media, or any other purpose by FAIC and its affiliates and representatives. Images, photos, and/or videos may be used to promote similar AIC/FAIC events in the future, highlight the event, and exhibit the work of AIC/FAIC.