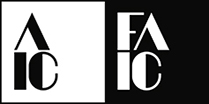 Online Community
For Conservation Professionals
Our professional development programs are a crucial source for continuing education for conservation professionals. We established an endowment fund to support these programs with the support of The Andrew W. Mellon Foundation and contributions from individuals. Additional sources support some programs, as credited within the individual program portals.
Online & In Person Events
Creating a 21st Century Conservation Ethics Framework
March 11, 2021, online (application to participate due January 22)
Photographic Chemistry Self-study Series
Explore key elements of photographic chemistry essential to understanding the nature of silver-based analog photographs, their creation, and their deterioration mechanisms. This series of online self-study modules includes video lectures and quizzes on specific topics in the chemistry of photography.
Upcoming Programs
Check back for more information on the following programs.
TechFocus IV: Caring for 3-D Printed Art
Dates TBD, online
Rigging Basics
Dates TBD, Penn Museum, Philadelphia, P
Inkjet Materials
Dates TBD, Image Permanence Institute, Rochester, NY
Airbrushing in Conservation
Dates TBD, Seattle Art Museum, Seattle, WA

Metal and Composite Threads in Textiles
Dates TBD, Cleveland Museum of Art, Cleveland, OH
Block-lifting Archaeological Artifacts
Dates TBD, Arizona State Museum, Tucson, AZ
Scavenger and Anoxic Treatments
Dates TBD, Winterthur Museum, Garden, and Library, Winterthur, DE
Remedial Treatment of Asian Paintings Collections for Paper Conservators
Dates TBD, Cleveland Museum of Art, Cleveland, OH
Photograph Conservation Basics
Dates TBD, Minnesota Historical Society, Saint Paul, MN
| Access Date | Quiz Result | Score | Actions |
| --- | --- | --- | --- |
Search Learning Opportunities